PAINT ALONG WITH LES DARLOW
MONDAY Paint Along's, covering many subjects and Senarios, including: LANDSCAPES - SEASCAPES - SKYSCAPES - STILL LIFE - ANIMALS
Grab a coffee, sit in your pyjamas or paint at your easle. Why not join me for Daily 2 hour Paint Along sessions where you can simply join in via Zoom and learn as we are painting - Cost is £15.00. I will explain everything I am doing as we develop the painting. The sessions, although not as indepth as a workshop will help you develop as an artist and get to grips learning how to paint with Pastel. Workshops are more INTERACTIVE and Longer.
I will approach each subject in a constructive way explaining my thought processes and explain my decisions about composition, values, colour temperatures, recession and depth of field. I will work at a pace to accommodate most artists.
ALL my PAINT ALONGS are suitable for anyone joining in any medium. Your own interpretation of my instruction will be needed as I will be using different medium and materials. But the instruction regarding learning to paint remains the same in all mediums.
The Sessions will consist of two time slots. MONDAYS 9am London UK and 3pm London UK.
If you are outside the UK click HERE for time conversion. To watch without downloading Zoom software Click here
SESSION 14 - FROZEN LAKE SUNSET - PANPASTEL AND PASTEL - MON July 19th 2021 3pm London UK Click HERE to Register or find out more information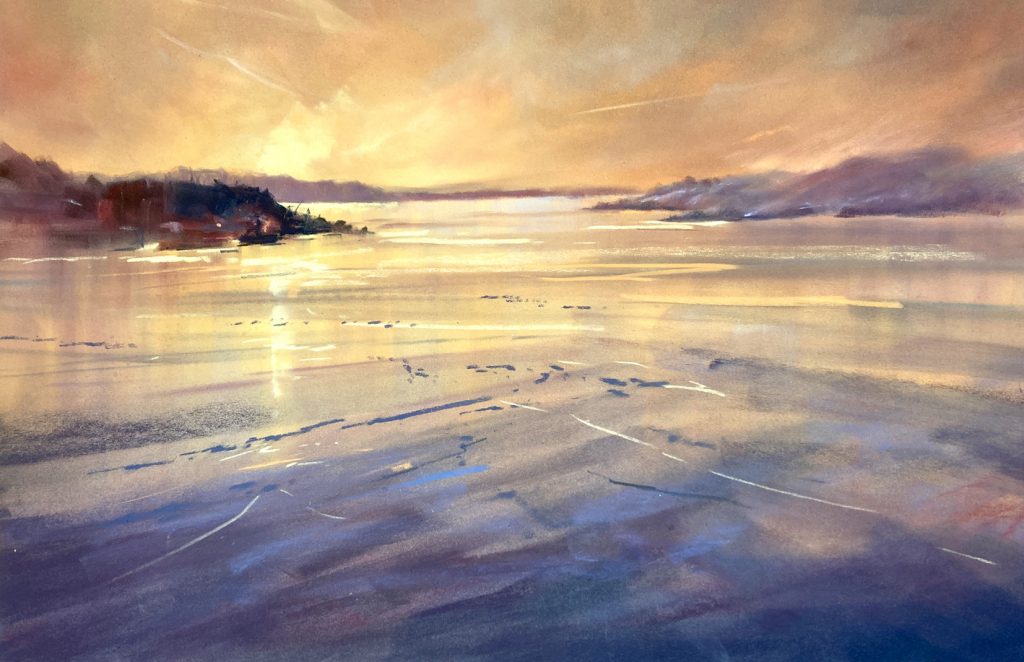 SESSION 12 - PLOCKTON - PANPASTEL AND PASTEL - MON May 10th Click HERE to Register or find out more information